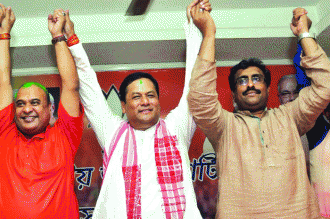 Since he was deputed by the RSS to the BJP in 2014, Ram Madhav has notched up strategic wins in Jammu & Kashmir and Assam. Ensuring that the Governments in these two States stay the course will be his litmus test
Pratishtha is one of those words that lend themselves to multiple meanings and usage. In the BJP, especially among those sections of the party, both leaders and cadre, that have had a close association with the RSS or are actively linked to the parent organisation, this word is often heard. I first heard it used after the party lost the post-December 1992 Assembly elections in Uttar Pradesh, Madhya Pradesh and Himachal Pradesh.
There was simmering anger among party cadre and sympathisers who wanted to know how could the party have lost elections in key Hindi heartland States despite the Ayodhya wave. Junior leaders (many of them are now top guns in the party) were openly critical of the two bosses who then reigned supreme — LK Advani and Atal Bihari Vajpayee. One such leader travelled to Delhi and voiced his angst to Pramod Mahajan who happened to be present at the party headquarters and was chatting with some of us.
Pramod Mahajan wasn't so much upset with that person for just barging in as he was about senior leaders being rebuked in public. "Do bear in mind their pratishtha", he snapped back at him. What he meant was, "Do bear in mind their stature, the respect they command, their prestige." This had an immediate calming effect. Sorrowful apologies followed. He left the room. We resumed our chat.
Since then I have witnessed numerous occasions when 'pratishtha' was used as a respectful tribute, a powerful shield, in more ways than one. It is this value-based belief inpratishtha that instills (or in the past instilled) a sense of humility and encourages (or in the past encouraged) self-effacing selflessness among the led and those who led.
So, if the party won an election, pratishtha demanded that all credit should go to the party elders. The party elders would then give credit to karyakartas. Conversely, if the party lost an election, pratishtha demanded that all blame should go to karyakartas. Thekaryakartas were expected to swallow their pride and accept the blame.
This is one of the reasons why, barring 1984, there has never been any honest or transparent 'introspection' in the party to seek reasons for electoral defeat. Not because there is no felt need for such introspection but because there is apprehension that this could breach the principle ofpratishtha if fingers, no matter how genuine the reasons, were to point at party seniors and elders.
Pratishtha was, and remains, protection when the chips were, or are, down. Neither Prime Minister Narendra Modi nor BJP president Amit Shah were blamed, even remotely, for the party's disastrous performance in Delhi and Bihar Assembly elections. Which is fair enough. Denting the leadership damages the party; common sense suggests both must survive to fight another day.
There is no reason to doubt or even contest that Modi's popularity, which still remains at an unimaginable (and for his opponents, an enviable) high two years after he stormed to power, made a huge difference in the way Assam voted in the recent Assembly election. It's his personal charisma that persuaded voters to look at the BJP as the alternative to the Congress. By voting for BJP, they were also voting for Modi, and vice-versa.
Coupled with Modi's popularity is Shah's organisational skills, his remarkable ability to carry individuals and groups along, papering over, if not resolving, debilitating differences. It would, therefore, only be in order to give credit to him too for the BJP's epochal breakthrough in the North-East. Winning Assam is another feather in his cap, metaphorically speaking, as he is known to be allergic to caps.
More than anything else, it is their pratishtha that required the party to hail them for the BJP's splendid victory in Assam. And, in keeping with the established practice of pratishtha, both Modi and Shah have been fulsome in their praise for the local leadership of Assam, the karyakartas and the voters. That completed the cycle of credit-giving which is customary in politics the world over.
Or perhaps it did not quite complete the cycle. As State party president and Chief Ministerial candidate, Sarbananda Sonowal played a crucial role in ensuring a massive surge in support for the BJP. His image and political activism, first as a leader of AASU and later AGP, fetched handsome dividends. His leadership gave credibility to the BJP, taking it from five seats five years ago to 60 seats in this election.
It must also be stressed that Sonowal may not have succeeded despite enabling the party to achieve the critical mass of support needed to win seats but for the brilliant campaign management by Himanta Biswa Sarma. The man who plotted the Congress's victory in previous elections, plotted the Congress's defeat in this election. Between the two, Sonowal and Sarma stitched up a formidable social coalition and marshalled their forces effectively, efficiently.
But there's another person who, frankly, deserves the largest slice of the celebratory cake. He is Ram Madhav, BJP general secretary in charge of Assam. He was deputed by the RSS to the BJP after Modi's victory in the summer of 2014. Between then and now, he has notched up two strategic wins — first in Jammu & Kashmir, now in Assam.
Never mind the carping criticism of the BJP-PDP alliance he fashioned without diluting the party's long-held views on issues like Article 370. If the coalition survives and delivers, history will judge it as the most significant turning point in a story that began with Jammu & Kashmir's accession to India. Patience is a virtue; Ram Madhav believes in this dictum, nationalists given to impetuous impatience should, too.
A year ago BJP winning Assam in the electoral stakes of 2016 seemed possible but not sure. In this one year Ram Madhav did three things, quietly, efficiently and, if I may add, daringly. He re-engineered the BJP's social base, expanding it both horizontally and vertically, helped in large measure by the RSS which has been working silently in the State for long. Simultaneously, under his guidance the State unit of the BJP underwent a total makeover, visibly and organisationally.
Second, by facilitating lateral entries like that of Himanta Biswa Sarma he not only crippled the Congress but strengthened the BJP. There were voices of criticism and charges of diluting ideology and identity. Ram Madhav was not unaware of these voices. He chose to ignore them, and rightly so.
Third, by forging a broader alliance with the AGP and the Bodo People's Front, he not only added to the BJP's kitty through accretion, he also restricted the BJP's campaign to manageable limits. Spreading too thin would have been pointless and there's no way BJP could have scored so high even with a higher vote share. Co-option is not the best option, but it is good tactics when the strategy is to achieve the seemingly impossible in a short time.
Now that victory is his (as much as it is Modi's, Shah's, Sonowal's and Sarma's, not to forget karyakartas), Ram Madhav faces challenges in Assam similar to those in Jammu & Kashmir. Keeping the alliance together is only one of them — the AGP is known for its capriciousness, the Bodo People's Front can be difficult. Given the extremely high anti-incumbency that worked against the Congress, expectations from the BJP will be excessively high. Expectation management is tricky business.
With the Congress totally decimated and savaged, and a new leadership to resuscitate the party nowhere in sight, the BJP in power will face virtually no opposition. At one level, this is a boon given the Congress's proclivity to stall and disrupt. At another level, the absence of a robust opposition could result in complacence and arrogance. The BJP is not unknown for succumbing to both. Ram Madhav would have to play minder to ensure neither happens.
What Ram Madhav has achieved by way of neutralising the Muslim veto represented by Badruddin Ajmal and his AIUDF is immeasurable. The perfume king who wanted to be the king-maker has been defeated and his fortress stormed. But this is not enough. Halting the AIUDF is one thing, rendering it irrelevant is quite another.
Linked to that is staunching the endless flow of illegal immigrants from Bangladesh. Sonowal has promised tamper-proof fencing of the India-Bangladesh border in two years. That is doable, but it can't be left to the system. The political leadership has to be that of Ram Madhav, ensuring the Government stays the course.
In a sense, that will be his litmus test — both in Jammu & Kashmir and Assam. Pratishtha will protect the party bosses, not him, in the event success leads to failure.