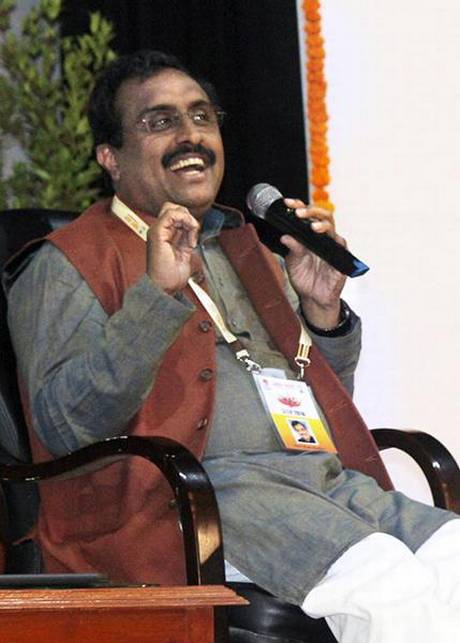 BJP is seeking power for the larger objective of bringing in accountability in public life and probity, says Ram Madhav
"We will come back to power in the next Lok Sabha elections, as people are happy with our performance," BJP national general secretary Ram Madhav said in Belagavi on Sunday.
The people are expecting "development plus". People are not seeking just development but "development plus", he added. "We are confident of doing better than the last time in the upcoming parliamentary election and retain power," he said during the STEP Conclave at the Visvesvaraya Technological University.
He began his speech saying that politics was not charity and that his party was after power. "It is needed to change the lives of the people. There need not be any confusion in it," he said.
The BJP aims to come to power from panchayats to Parliament. "We have held the reins over the country, including in six among the seven States in the North East. Very soon, Mizoram will also fall into the BJP fold," he asserted.
"Unlike other parties who claim to serve the people, we are into politics to come to power and not to be seated in the Opposition benches," he said.
"We are after power for the larger objective of bringing in accountability in public life, probity and cleanliness," he said and criticised the Congress for promoting dynastic politics.
He said that the BJP was not afflicted by this menace. "If the son of any politician in the party was into active politics, it was out of his own making and that was welcome," he said. "You cannot end corruption until people at the top became non-corrupt. Holding a clerk accountable for corrupt practices and not holding accountable a legislator sitting in the Vidhana Soudha for the such practices would not serve the purpose," he said.
"Prime Minister Narendra Modi is not only not corrupt but also incorruptible. He has set a bench mark for his successors," he said..
He played down the GDP as an index of prosperity. "Things like GDP are mere figures but what matters actually is prosperity. That has been delivered by the government," he said.
According to him, tripling of the income of 100 rich people in the State could change the GDP figures. But what is important is prosperity of the common man.
"Now, terrorists and Maoists are on the run and we would not rest until the last terror element is neutralised. Even urban Maoists who disturb peace and tranquillity are under the radar of the law enforcing authorities and they would be sent to jail," he said.
The country was communal-riots free during the last four years, he said.